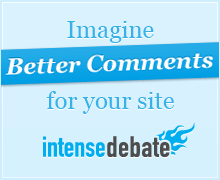 So I am checking out an enhancement to the WordPress comment system, IntenseDebate. Yeah, no space. Hip, right? My plan is to detail the general directionality of thumbs in regards to the plugin for the goals of my client. Since the installation on my small amount of comments is still generating the infamous response, "Finalizing… almost done", please check back for edits in the next week or so.

"Reply-By-Email: Respond to and moderate comments via email."
The real goal or problem that lead me do IntenseDebate's door. Not so much the moderation, but responding via e-mail is much desired amongst WordPress.org users, as well it should be as this feature is currently available through the offerings of the WordPress.com platform.

(See Comment Reply Via Email: Open To All)
Thumbs Up
If you already have a WordPress.com account you are able to authenticate in IntenseDebate without going through the process of creating yet another internet account.
IntenseDebate is an Automattic joint, as they were acquired by the company to round out their set of social blogging buzz-word integrated offerings. I can only imagine IntenseDebate is one of the reasons Automattic has not added the Comment Reply Via Email option to the WordPress.org platform.
Thumbs Down
I have been receiving the "Finalizing… almost done" message while syncing my comments for far too long.
You have to sync your comments? I will further investigate this, but a bloggers comments are and should stay the property of that blog's database. While the comments claim to be kept in both places, I still find this unnerving.
The restyling of the comment section and whatever code the plugin is adding to my blog is not kosher and seems to be causing some float or alignment issues out-of-the-box.
More to come.